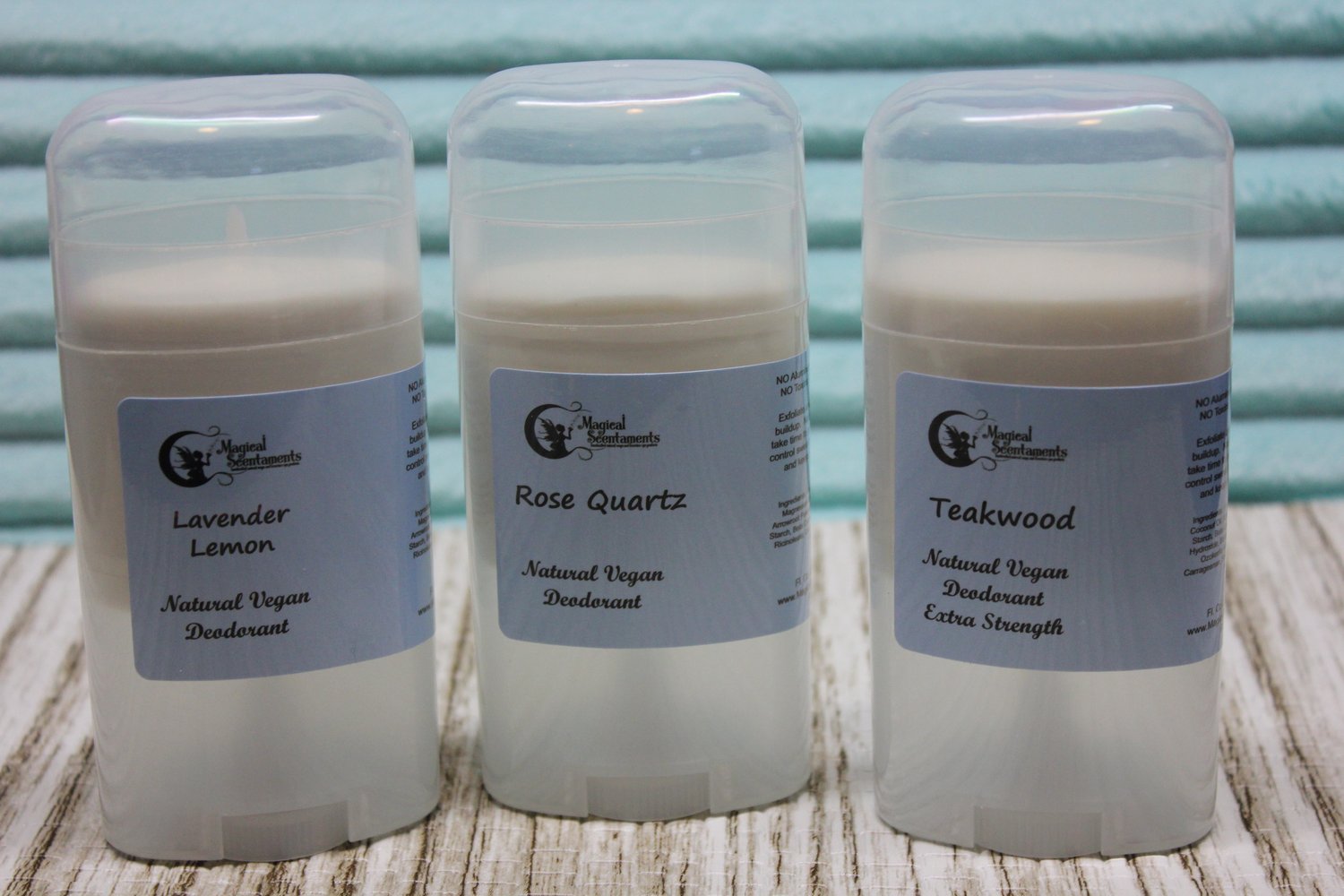 NO Aluminum NO Parabens NO Toxins Cruelty-Free
Exfoliate underarms to remove buildup. Natural Deodorant may take time to get used to. Does not control sweat but does control odor and keeps you fresh all day. I normally cannot use natural deodorant with baking soda but none of these recipes contain much or any baking soda. I haven't had any irritation at all even with my sensitive skin.
Ingredients: Fractionated Coconut Oil, Magnesium Hydroxide, Coconut Oil, Arrowroot Powder, Ozokerite Wax,Tapioca Starch, Beta Cyclodextrin, Shea Butter, Zinc Ricinoleate, Carrageenan, Essential Oils, Vitamin E
Our ingredients are natural and vegan. We are very selective of what we use and where we source our cruelty-free ingredients from.
Coconut Oil - moisturizes skin
Magnesium Hydroxide - Dead Sea Salt
Arrowroot Powder - absorbs moisture
Ozokerite Wax - Earth Wax (this is a vegan substitute for beeswax)
Tapioca Starch - absorbs moisture
Beta Cyclodextrin - from corn
Shea Butter - moisturizes skin
Zinc Ricinoleate - from castor oil seed
Carrageenan - vegan gel to thicken
Essential Oils - gentle skin safe scent
Vitamin E - moisturizes skin
Steryl Alcohol - from coconut for glide
Natural deodorant is generally softer than commercial stick deodorant. Be gentle when applying.
Fl. Oz 2.20 / 62.36 gr - 2.5 oz