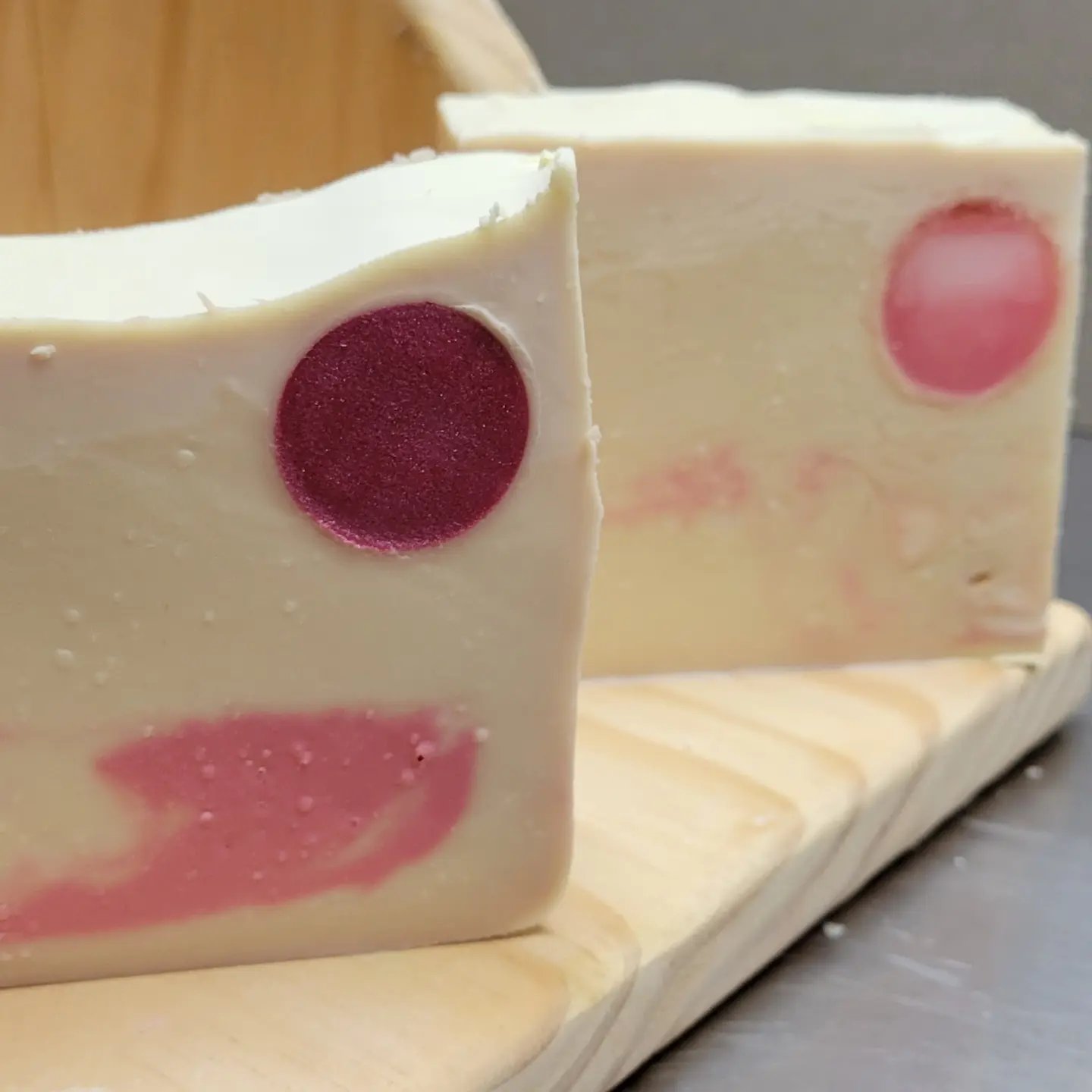 All may contain:
Ingredients: Rice Bran Oil, Olive Oil, Canola Oil,, Distilled Water, Coconut Oil, Sodium Hydroxide, Shea Butter, Mango Seed Butter, Sustainable Palm Oil (only in very few recipes), Avocado Butter, Castor Oil, Fragrance, Colloidal Oatmeal, Kaolin Clay, Sodium Lactate, Mica
Goat Milk/Natural- also has goat milk
Amazing Grace - The beautiful scent of Amazing Grace by Philosophy. Bergamot, lemon, citron and neroli, jasmine, orange blossom and rose with touch of musk and cedarwood. One of our favorites!
Beach - The salty scent of walking on a beach in the morning with the roaring waves of the ocean and the sand under your fee
Black Amber & Lavender - Exotic Egyptian amber and mild French Lavender blended with a hint of tonka bean and myrrh create a pleasing blend of floral and warm earthy notes
Black Chamomile - Black Chamomile is a beautiful mysterious scent.
Black Ocean has been 2022's favorite scent of the year! This luxurious soap has goat milk and activated charcoal for clean skin that smells amazing.
Blueberry - A single note of juicy, ripe blueberries straight from the farmers market
Calamine - Dry, itchy skin? Our calamine soap can help calm the redness and itchiness (contains calamine powder)
Cashmere - A fantastic feminine scent of Cashmere. Not overly perfumed but leaves the skin well scented. Sensual cashmere musk, sweet vanilla, soft fruit notes of apricot, guava, berries. Middle notes of mimosa, peony and jasmine rounded out with vanilla and sandalwood.
Cherry Citrus - Fresh citrus notes of lime and orange blend with berries and cherries for this delightful blend. A must have scent.
Cocoa Butter Cashmere - Light spices, cedarwood, vanilla tonka, coconut, jasmine, olive wood, sandalwood, amber, musk, & cocoa butter.
Fresh Brewed Coffee - Wake up with the refreshing scent of coffee! This luxurious soap is smooth and creamy and made with fresh brewed coffee. It is nourishing for the skin and soul.
Italian Limoncello - a bright crisp lemon scent sure to wake one up in the morning
Karma - The scent of Karma. It is a twist on Patchouli.
Japanese Cherry Blossom - Japan celebrates the gorgeous cherry blossoms that are abundant in the country and those that were graciously gifted to the US. This beautifully balanced floral scent reminds me of walking through Branch Brook Park in Newark or being in DC for the festival and parade celebrating these gorgeous trees.
Jasmine Black Currant - Ripe black currant fruit teases the senses with hints of fresh-peeled citrus. Topped with a finishing of jasmine flowers and warmed up by traces of tonka and amber, the scent is sensual, sultry and seductive
Love Spell. A beautiful blend of peach, orange, cherry blossom, and white jasmine. This is a great dupe of the loved perfume!
Mahogany Teakwood - This is a heavenly scent. It is earthy and incredible for anyone.
Midnight Bourbon - A masculine scent that is not too strong but leaves a light scent on the skin. Dark rich bourbon with sandalwood. A deep complex masculine blend. Top notes of bergamot, clove leaf and peppercorn. Middle notes of bourbon, a dash of lavender complimented by bottom notes of amber, leather and soft musk
Moonstone is a light scent that to me is "just right". It isn't floraly but clean. It has become a huge favorite of many of our repeat customers! It is one of my absolute favorites.
Nag Champa - The amazing incense scent of traditional Nag Champa
Oatmeal Milk & Honey is an earthy, clean scent. This bar is creamy and moisturizing made with local honey and heavy cream for some serious skin-loving ingredients. Some bars are just the solid bottom color
Patchouli - Not your hippie chick patchouli. This is the fragrant floral patchouli which is lighter than the oil scent we remember.
Polish Cabbage is a traditional soap made with cabbage water and scented in natural oatmeal, milk & honey. Cabbage is known for its' anti-inflammatory benefits. Soap made the way it used to be made. With lard and love. Babci would be proud!
Fairy Princess is a sweet scent perfect for little princesses. The large bar of soap can be cut into smaller pieces for smaller hands.
Pure honey. Honey is known for being so good for the skin to moisturize and act as an antibacterial. Only pure local raw honey is used in this delicious smelling soap.
Rose Quartz - This is a blend of rose and vanilla that isn't overly floraly. It is a beautiful take on a rose on a fall day.
Rosemary Mint Charcoal Facial Bar - Fresh rosemary and mint scent with activated charcoal for problem skin.
Sea Salt Blossoms - Aquatic florals and sea moss mix with dewy green notes on a base of wood and musk to create a luxury ocean fragrance.
Sensitive / Intimate - Safe for intimate areas. This soap was created for those who suffer with constant UTIs. This is not a medical claim. For those that need a sensitive soap to clean intimate areas, this has the best of everything with nothing you don't. Made with pure organic Lavender & Tea Tree Essential Oils
Springs of Ireland is crisp and fresh like grass after rain. A flowing Irish Spring. Clean unisex scent. You can imagine walking along the greenest grass along a babbling brook.
Tumeric & Honey Soap that is safe for pets. Made with pure tumeric and local organic honey, this soap has the moisturizing qualities with nothing that can harm your beloved furbaby. Excellent for humans who need extra gentle soap.
Unscented soap made with goat milk. This creamy bar of soap is luxurious.